New social media networks turn the business travel world into a much smaller place with new networks that allow solo travelers to login and connect with fellow businessmen and women on flights and in cities.
Working in consulting management, we send our consultants out on a Monday and home again the following Thursday. That's two trips a week that can offer, previously missed, camaraderie.
Some people are still opting to sit back and take a nap and enjoy those hours of, fingers crossed, quiet time.
But for those who enjoy some casual banter or enjoy good #HealthIT discussion, there's now more than one option offered to suit your fancy.
Planely
Planely allows users to run their profile through Facebook or LinkedIn in order to connect with people who share a similar background or lifestyle. With a stories section located on the website, you can find tales from other Planely users who have participated in the network. One of which even ran into the creater and CEO of Planely, Nick Martin. One of the most entertaining aspects of their website has to be the live twitter feed of travelers who have succumb to airport boredom. Check it out the next time you find yourself sitting in those awkward rows of seats… maybe you'll find a fellow traveler with the same problem nearby!
Satisfly
http://www.satisfly.com/docs/faq.html
Satisfly is currently only available on airBaltic but has a relationship with the airline that allows your seating buddy preferences to be matched with other travelers for maximum seating compatibility. You simply define your preference as private or sociable. The network allows airlines to include a native integration with their systems, inoder to make the user process seamless and automatic.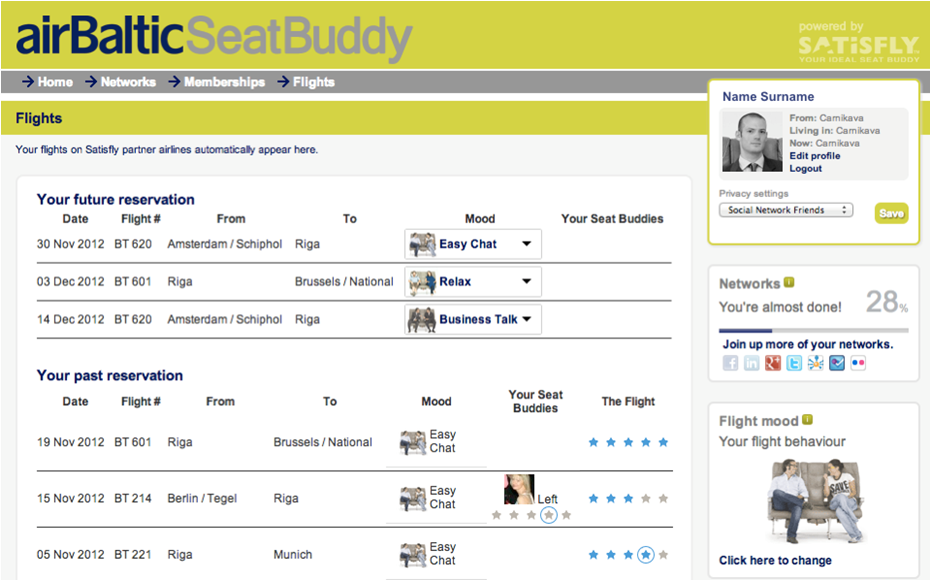 Maiden Voyage
Maiden Voyage gives business women the opportunity to meet with other like minded ladies on a flight or in a new city. It can be intimidating to grab a meal or take a walking tour alone for women, but with the ability to meet up and explore, there's a greater chance you'll get up and get out of that hotel room.
The next time you're on a flight or in a new city, try out these social networks! You never know who you might run into or what new friendships there are to be made.
Yo may also like: 4 Apps Every Traveling Consultant Should Consider
*Disclaimer: Healthcare IS is not affiliated with this product and therefore unbaised. This article is merely a presentation of what is available and not a promotion.