Life as a road warrior has its compromises but exercise doesn't have to be one of them.
Below are two apps I've recently tested out. They appeal to short-term time commitment and incentivized commitment.
On your next trip out, find some time to try them out and give us your own review in the comments section below!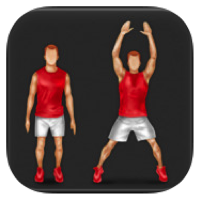 7minute
This workout allows you to get all the main muscle groups done in seven minutes. It got my heart rate up and had me breaking a sweat! It would make the perfect addition to your routine if you're an early morning riser. For those of you who prefer to take full advantage of the snooze button, try working it in during lunch or in the evening.

Sworkit
http://www.sworkit.com/about#faq
"Swork it builds randomized circuit training workouts that you can do anywhere. You just choose which part of your body you want to work on and how long you have to work out, and Sworkit takes care of the rest. By providing an actual workout and taking you through the motions, you don't have to do any other planning or have any extra equipment.
Why Sworkit?
We all have the desire to take care of ourselves and we know that we need fitness to stay healthy. But it's easy to come up with excuses: "I don't have the time." "I don't like gyms." "I don't want to buy new equipment." "I get bored too easily." "I travel for work." "I don't know where to start." Sworkit is here to make sure that none of these excuses apply and we can all get a simple workout in whenever we want."
Let's Stay Active!
You may also like: 4 Apps Every Traveling Consultant Should Consider